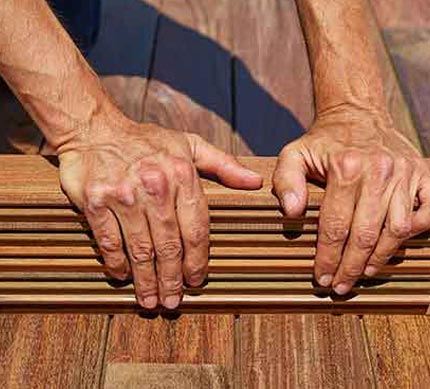 Welcome to Ipe Decking
Lowest Ipe Decking Prices Online
Not only do we sell the highest quality FAS grade! But also at the lowest prices. Ipe fluctuates in price based on import, market demand, and availability we sell Ipe however as low as $3.80/lf for 1×6 material (3′-7′).
Shipped Direct to Job Site
We ship all ipe direct to your job site. This is part of our commitment to you. No need to hassle with the shipping details. Carriers will set an appointment at your job site or home.
Order High-Quality Ipe Decking Online – Avoid Low-Quality Boards
Are you in search of top-notch Ipe decking material for your next project? Look no further! We are the leading provider of Ultra-Premium Brazilian hardwood decking materials. Our main goal is to offer durable and high-quality materials for decking, fencing, siding, and more. Our friendly customer service team is always ready to assist you in ensuring your complete satisfaction. We have hundreds of shipping terminals for convenient delivery or we can even ship directly to your home or job site. And, we guarantee the lowest prices.
Correctly spelled as "Ipe" (pronounced "E-pay"), this distinguished hardwood is the best for outdoor use and surpasses all artificial materials and other natural woods. Our company is named after Ipe, as it is the best choice for outdoor projects. Though we offer alternative decking options, we highly recommend Ipe for its quality, durability, and cost-effectiveness. Learn more about Ipe on our website, including our informative videos.
Be on the lookout for Misleading Information
The wood industry is surrounded by loads of misleading information.
Some companies actually promote their products by claiming to be selling Ipe that has been sourced sustainably. Nevertheless, several companies including Ipe Decking USA always ensure that the Ipe we use is sourced sustainably. Very few companies can actually guarantee this. To be sure about this fact you can also ask to get a confirmation in writing.  Companies that claim to be the mill and yet they contract other mills for milling services. Watch out for low-quality grades, or grades like "premium" that are not recognized industry-wide.
At Ipe Decking USA You Can Always Expect
Custom milling of Ipe boards to your project requirements
Fast shipping of orders to anywhere in the USA
Responsibly sourced wood in Brazil
Top-quality wood (First European Quality) that matches or surpasses the FAS rating
Direct sales from our U.S.A.-based warehouse
Friendly customer service
Long-lasting and genuine Ipe decking
Best price guarantee*
Extremely durable and low-maintenance wood
Naturally resistant to bugs, mold, fungi, slip, and fire
Suitable for all outdoor applications
Possibility to mill the wood to any measurement
Low lifetime and annual costs
Can be used with nearly every hidden fastener system
Actually, it is very difficult to keep abreast of every type of exquisite hardwood decking material available as well as their characteristics unless you have an interest in the wood industry. There are numerous wood materials available in the market and Ipe Decking USA offers more than 30 different wood materials. With all the different wood materials in the market; how does one determine which material is better than the other? Actually, the three most important aspects to consider are longevity, resistance, and maintenance. Here is a good video about Ipe wood.